Nowadays, lots of people have at least some ink, but committing to a tattoo for a lifetime can seem daunting. Especially for those of us who can't even decide between tacos or burgers (so you just end up going through the Wendy's drive-thru with a Taco Bell bag already in your lap), how is a girl supposed to decide on a permanent tattoo to live on her skin forever?
While temporary tatts might seem like the safest alternative for even the most indevout commitment-phobe, you might want cover your arm in something cooler than the sleeve of your nephew's Hot Wheels temporary tattoos to start. Thankfully, an Etsy shop is selling temporary tattoos of custom portraits, which means you can wear your latest celebrity crush on your sleeve with the impunity to change up the design when you inevitably start crushing a different celeb.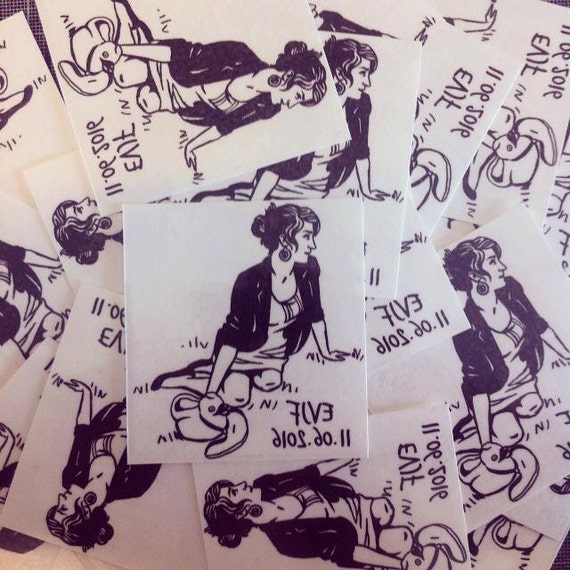 According to Bustle, Etsy store owner Lilimandrill illustrates personalized portraits and sells them as temporary tats. While Grossmann markets her artwork as a unique gift for weddings, bachelorette parties and bat mitzvahs, these pseudo-tattoos have endless potential. Although April Fools Day has since passed, Grossmann's designs are realistic enough that you can tell your girl gang that you got a drunken tattoo of that generic fuckboy you've been texting for the last week. NEED.
Judging by examples on the product listing, she puts a lot of detail into her miniature portraits. The reviews only endorse the high quality of the tattoos! One customer wrote, "This item was an amazing touch for our wedding day. We assumed some people would join in on the fun but almost everyone lined up for a tattoo! Some people used up to 4 tattoos." No doubt, we'd probably selfishly use the entire 10 pack for ourselves.
Whether you want to wear your bestie's face or you want to don a temporary tattoo of an internet boyfriend, Grossmann's personalized interim tattoos start at $70, before shipping expenditures, of course. Though $70 might seem like a lot of cash to spend on ink that only lasts for two or three days, you receive a minimum of 10 single portraits—or more. if you choose one of the more expensive packages—with your order. Plus, it's just fantastic artwork! And we totally supporting paying artists what they're earned for their hard work.