You'll go ape wild for this boozy twist on a traditional monkey bread recipe, with bite sized bobbles of homemade brioche dipped in cinnamon sugar and smothered in bourbon banana caramel, then baked until bubbling and crispy around the edges.
Sticky sweet and drunk with flavor, this boozy monkey bread features a banana caramel sauce spiked with a generous dose of bourbon (hence the name) and a scratch-made brioche that's pillowy soft and oh-so-good. Make the dough the night before and assemble it in the morning of for a perfect brunch for a bunch (one pan easily serves 10 to 12).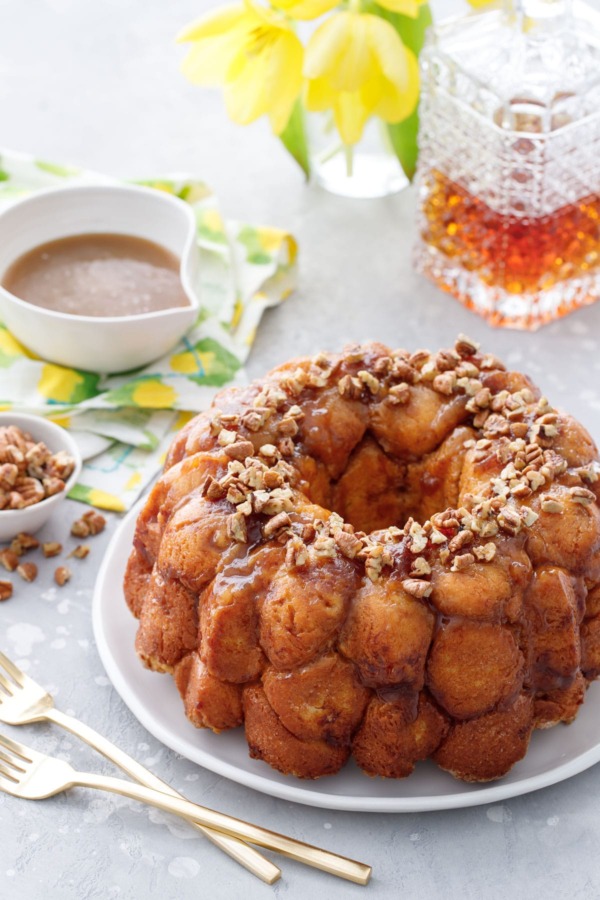 Monkey bread gets its name by the method in which it is eaten: picking off chunks of buttery, gooey dough with your fingers not unlike a monkey grooming his buddy (which is actually a weird thing to name a food after, if you really think about it.)
I figured, it's called monkey bread, it should have some banana in it. And if monkey bread is good, drunken monkey bread would be even better, so let's add some bourbon to the mix too (the alcohol pretty much all bakes out in the oven, however it can be replaced by a smaller amount of vanilla if you need something family friendly).
The pièce de résistance is the caramel sauce: sweet and sticky and boozy, like bananas foster in sauce form (and in fact, if drunken monkey bread wasn't such a fabulous name, I would've called it Bananas Foster Monkey Bread).
This caramel sauce is what brings the whole thing together. It's poured over the raw balls of brioche so they bake up extra sticky and gooey, and also lusciously drizzled on top of the whole thing; there's even enough leftover for dipping and dunking.
Really, you can't have too much of this caramel.